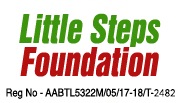 Facilities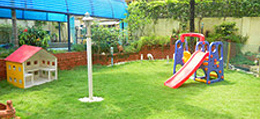 Little Steps Nursery has a six foot compound around the property which will provide ample security to the children playing in the garden inside.

DOWNLOAD BROCHURE
Photo Gallery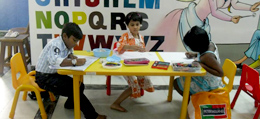 Take a Look at our photo gallery to know the facilities available at our playschool and nursery, along with photos of important events.
Reach Us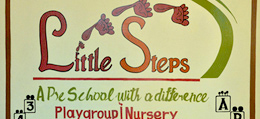 Little Steps is the best way to help bring-up your child as an outstanding, confident and intelligent student in a warm and secure environment. Every student at little steps, will be naturally inclined to learning, and will be a model child who will value relationships and respect values of life. Take your first step in making your child join here. Contact us Now for Admissions and Enquiries.
The support, care and attention given to our child, by every member of the Little Steps Team is appreciable. Thanks a lot.

- Mrs.Vanitha Somasundaram.

The colorful and clean surroundings, the play area, the learning toys, the friendly staff everything contributes to make this pre-school stand alone from the crowd.

- Mr.Venugopal.S.

Our Son Vignesh was the first student of Little Steps. We are happy with his progress at school. He always thinks of his nice teachers at Little Steps.

- Mrs.Latha Paramasivam.

They encourage to develop positive attitude, self confidence and self esteem in the kids, which is very important for growing children.

- Mrs.Madhubala.